Lace City Chorus runs a 'Learn to Sing' course every year, that allows any woman to experience the joy of barbershop singing for 6 weeks. At the end of the 6 weeks, participants are included in a public chorus performance.  Details of the next singing course will be published here in due course.
Participants who enjoy the course have the option of pursuing full membership of the chorus.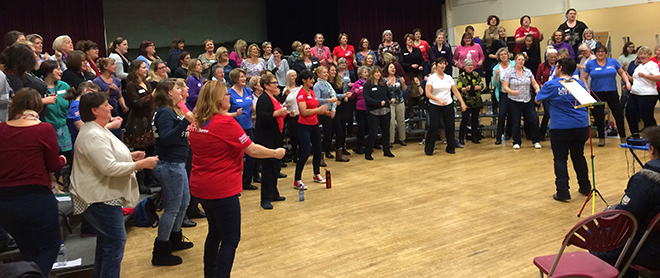 The pre rehearsal warm up at our 2015 course, which began in early November and finished with a fantastic Christmas concert performance.
"I was invited to join a singing course with Lace City Chorus in Autumn 2013 through Nottingham's Creative Quarter. At the time I didn't really know anything about Barbershop singing and went with an open mind as my perception was that it was a bit old fashioned and not really for me. How very wrong I was. I was astonished - not only by the range of songs the chorus perform but also by the level of training, the commitment and dedication of each and every chorus member. 

I was quite nervous before my first lesson but everyone made me feel so welcome. For me, being part of the chorus is my release. I run my own business and it's a fabulous way relax, have fun and learn a new skill. It's given me the opportunity to experience some amazing opportunities such as competing at international level in Las Vegas within my first year of joining as well as making some fabulous new friendships. 

And now? The chorus is part of my life and I can't imagine what my life would be without it."

- Louisa Oukil
"I was introduced to Lace City Chorus (LCC) by Ellie Blackeby whose father, Trevor Mills, was the Medical Director at East Midlands Ambulance service (EMAS), where I work. EMAS started a work choir in Feb 2014 and Trevor asked Ellie to coach and Direct us. That was it .... I was hooked. I joined the singing course if LCC in June 2014 with no previous singing experience and loved everything about it, the friendship, the enthusiasm, the skill and, of course, the amazing sound created by voice alone. For me it's not about having a good individual voice but the ability to listen to ladies around me and blend with them. LCC has already given me experiences I could never have imagined. AMAZING!!"

- Wendy Hazard