Virtual performance of Can't Buy Me Love
by

EMILY JOHNSON

Sep 02, 2020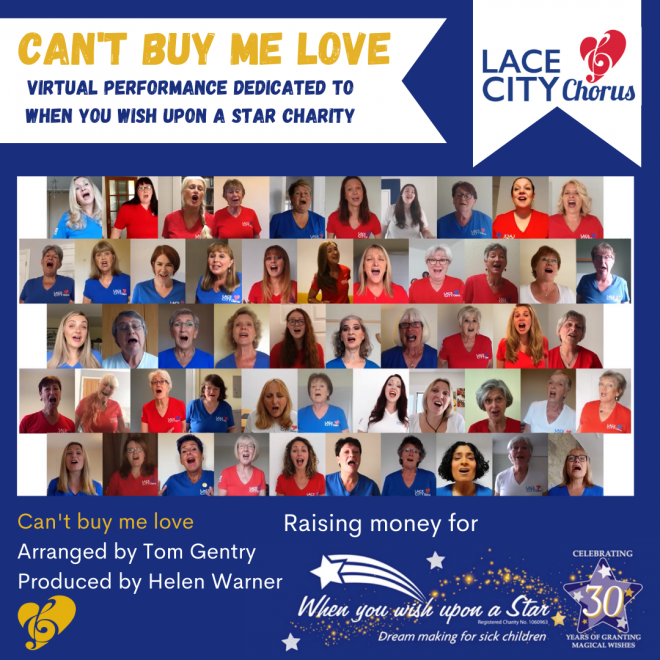 Throughout lockdown the Lace City Chorus held weekly rehearsals via Zoom to help keep the members connected, spirits up, and provide them an opportunity to grow as singers. 
The chorus are unable to hold concerts this year due to Covid-19 restrictions so they have decided to dedicate an online performance and help raise funds for the Nottingham founded charity When You Wish Upon a Star.  Each chorus member has made an audio and video recording and with the expertise of a fellow barbershop singer they have created this virtual choir performance of The Beatles classic 'Can't Buy Me Love'. 
Alexa Wigfield, Regional Fundraiser from When You Wish Upon a Star said, "We are delighted to have the Lace City Chorus performing and fundraising for us.   This year the charity was due to celebrate 30 years of magical Wish granting but sadly due to Covid-19 our events have been postponed until next year.  Virtual events are a great way to raise awareness and much needed funds.  We believe every child deserves to smile and with your support we can make this happen.   Wishes allow the family to put their child's illness on hold as they have fun and create precious memories".
Ellie Blackeby, Interim Musical Director of Lace City Chorus said: "This year has been a challenging time for lots of people. We've all experienced our own personal struggles during the pandemic but for Lace City Chorus, singing has helped to keep us connected. It's been difficult not seeing each other every week but we've connected via Zoom and learnt new songs, including Can't Buy Me Love, which we're delighted to dedicate to When You Wish Upon A Star. Creating this video and knowing that we're able to raise some money for such an amazing charity has been inspirational." 
Donations can be made at: https://www.justgiving.com/fundraising/lacecitychorus
---