by

LOUISE V SCULL

Oct 19, 2022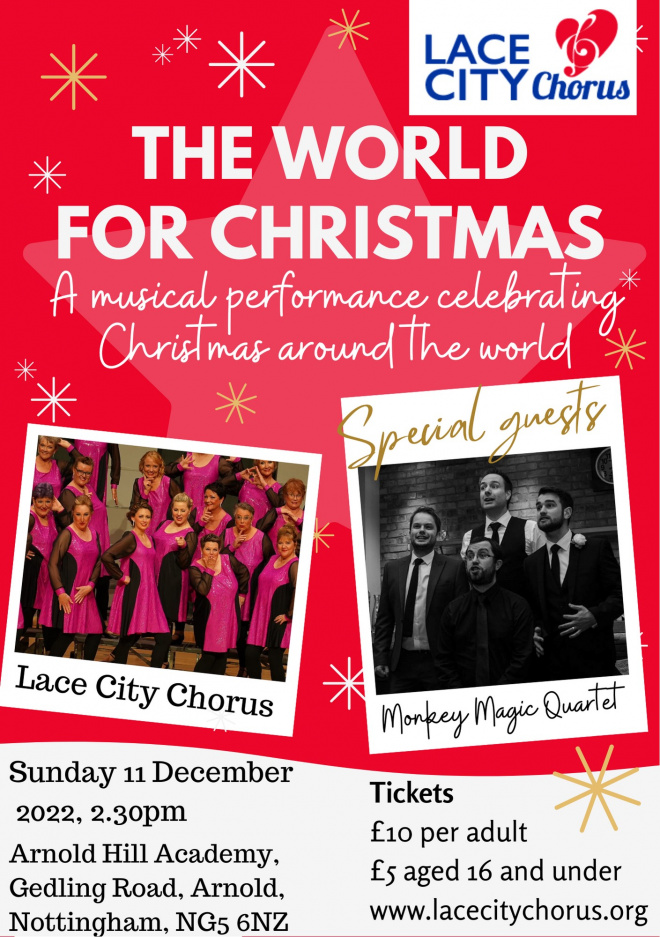 A cappella singers, Lace City Chorus, are returning to the stage with a show packed full of Christmas magic. The performance will take you on a journey of Christmas traditions from around the world, with some of the chorus' dynamic show songs thrown in too.
Tickets are now available to buy here
Details 
Arnold Hill Academy, Gedling Road, NG5 6NZ
Sunday 11 December at 2.30pm
Tickets are £10 per adult and £5 for children aged 16 and under 
The chorus will be joined on stage by Monkey Magic, who you may know as The British Barbershop Boys. This quartet of male singers first formed in 2008 and since then, have won many competitions and represented the UK three times at international competitions. 
In 2010, they signed to Arista/Sony Music and changed their name to The Great British Barbershop Boys, and subsequently released their debut album 'Christmas Time' in 2010. 
Alan, Tenor with Monkey Magic said: "We are delighted to be performing alongside Lace City Chorus again. Do come and say hello after the show, who knows, we may even sing you another song."
Lace City Chorus, like many performance groups, have been unable to perform to a large audience since 2019 due to the Covid pandemic. This will be the first time the full chorus have been able to put on a show and share their music with fans, friends and family. 
Ellie Blackeby, Director of Lace City Chorus said: "Being able to share our music with an audience is the best feeling and we are very excited to be able to restart our annual Christmas show. Please invite your friends, family, neighbours to join us at the most wonderful time of the year."
---